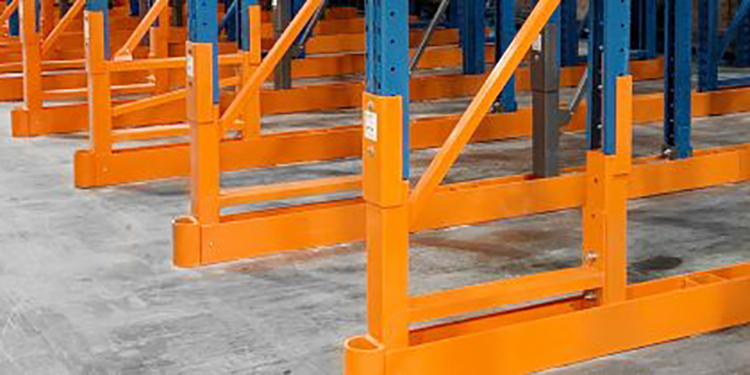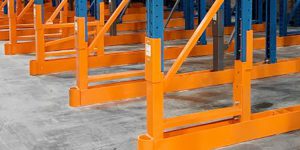 Pallet rack damage happens, often due to an impact from a forklift as it transports a load through the facility. Upon identification of a damaged rack section the structure should be isolated, and a qualified, professional rack engineer should be engaged to evaluate the system. Based on the engineer's assessment, it may be determined that a repair can be completed with an engineered rack repair kit from the original rack manufacturer or a qualified third party. These kits allow damaged components to be reinforced, or removed and replaced with like-new product that has been properly designed and bolted into place.
Here are nine benefits of using a rack repair kit:
System Capacity and Structural Integrity Are Maintained. While rack-column repair kits may be partially comprised of standard parts, they are always specially engineered to match the configuration and load capacity of the existing rack as documented in the system's load application and rack configuration (LARC) This ensures that a repaired rack will continue to deliver the same load capabilities and structural integrity that it did prior to the damage occurring.
Kits Can Repair Damage to All Uprights and Braces. Some rack owners erroneously believe that rack repair kits are intended only for aisle-facing front columns. In fact, the kits can be used to fix damage that occurs on the end of warehouse aisles, which are exposed to more traffic and a greater risk of impacts. Kits may be custom built to fit a particular rack, or they may be designed and built to be compatible for more than just one rack style. Kits can also be engineered for cantilever rack systems.
Some Kits May Allow Racks to Be Repaired Without First Unloading. To minimize disruption to warehouse operations, in certain specific situations (as determined by the professional engineer engaged to oversee the repair) it may be possible to repair a damaged rack component without the entire system being unloaded first. In these cases, a special device is employed to secure the rack and support the weight of the load while the repair is being performed without compromising safety.
Kits Can Be Stored to Minimize Downtime. By proactively ordering rack repair kits for onsite storage, installation can be performed in-house if authorized by the professional rack engineer who is supervising the repairs.
Rack Repair Kits Are A Less Expensive Option. Depending on the style of racking and type of damage, a rack repair kit can be considerably less expensive than a complete rack frame replacement.
Bolted Kits Reduce Risks Associated with Field Welded Repairs. A bolted rack repair kit eliminates a variety of risks associated with field-welding, which include: the chance of fire caused by sparks; surface contamination that may weaken the weld and compromise the integrity of the repair; ensuring the environment in which the welding is performed is appropriate for its success; and verifying that the welder's certification is applicable to the type of weld required for the repair.
Rack Repair Kits Are Easy to Install. An experienced rack repair professional can complete a bolted rack repair kit installation in as little as 30 minutes, depending on the type and location of the damaged component. In certain situations, installation can even be performed by in-house maintenance crews.
Kits Are Robust and Safe. Many rack repair kits are engineered, manufactured, and supplied by the rack's original equipment manufacturer (OEM), making them equally as durable as the original parts. Likewise, a third party can engineer a repair kit using components made of heavy gauge steel that exceeds the strength and capacity of the original components.
RMI Offers Best Practice Guidelines for Rack Repair Kits. The Rack Manufacturer's Institute (RMI) supports the use of rack repair kits that have been engineered in accordance with the ANSI MH16.1: Specification for the Design, Testing and Utilization of Industrial Steel Storage Racks. This specification requires that the repair restores the system to its original design capacity. Additionally, RMI publishes a document outlining in detail the best practices for undertaking a kit-based rack repair: Guideline for the Assessment and Repair or Replacement of Damaged Rack – Version 2.